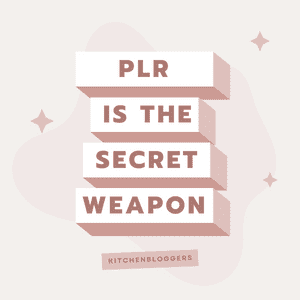 Food blogging is an incredible experience. You can find and try new recipes, share them with your family, friends, foodies, and other audiences, and enjoy good food.
However, one of the major challenges in food blogging is continuously providing fresh and incredible food-related content that will captivate your readers' attention.
Skip the stress of generating new, interesting content by maximizing private label rights (PLR) recipes.
Through PLR recipes, you can share affordable and delightful meals with your audience and keep them coming back for more content.
Keep reading to learn more about PLR recipes and how to use them to help your food blogging site stand out!  
PLR Recipes
Are PLR recipes unfamiliar to you?
Let me share with you how useful PLR recipes can be! PLR recipes are ready-made recipes that experienced recipe authors have made.
You can use these recipes to grow your food blog website. By purchasing a PLR license, you download and brand the recipes.
The best part about this process is that you don't have to start from scratch! You won't have to spend much time, money, and effort brainstorming new recipes and buying ingredients.
You also won't need to test the recipes and take countless photos to get the best shot to entice your readers to try the recipe.
Gorgeous images are already included in our PLR recipes, so you only need to purchase them and use them as your own.
Use PLR Recipes for Affordable and Delicious Meals 
Your readers would love to find recipes that allow them to serve delicious food without breaking the bank. You can give them exactly what they need through PLR recipe. At KitchenBloggers, we give you access to PLR recipes that are satisfying and budget-friendly. With the increasing inflation and economic challenges, your audience will appreciate creative but practical recipes.
Purchasing PLR recipes is a win-win situation for you and your readers. They get access to affordable meal options, and you can also provide content without burning a hole in your wallet. You don't have to hire a content creator to help you produce food-themed content from scratch. Since PLR recipes are a complete package, you have everything you need to nurture your site.
Various Recipes To Choose From
Are you worried about creating different recipes that can cater to your audience's varying needs and preferences?
KitchenBloggers has you covered. You can showcase top-quality recipes with our Quick & Easy PLR Recipes – Volume 2.
These include herb mustard sirloin steak, spicy black bean taco wraps with fresh guacamole and mozzarella butterflied chicken breast with balsamic glaze. We also have one-pot pork and sweet potato stew, grilled corn and cherry tomato salad, chocolate hazelnut truffles, and more!
Healthy Meal Options
Every day, almost 37% of Americans eat fast food. The problem is most fast food is rich in salt, sugar, trans fat, and processed ingredients. You'll want to promote a healthy eating lifestyle to your readers, so they can avoid certain health conditions and enjoy a better quality of life. You can achieve such goals with PLR recipe. 
Our PLR recipes can cater to various audiences and people with dietary restrictions. There are no artificial preservatives or added refined sugar as well. Whether your readers love simple meals, vegetarian options, or gluten-free recipes, you'll have effective content for them thanks to our PLR recipe.
Stunning Professionally Captured Photos
With the prevalence of the internet and social media, the world is becoming more visual. This means that your food blogs should not only be unique and helpful to your readers, but they should also come with lovely mouth-watering photos. Fortunately, PLR recipes already include photos that showcase what's in store for your audience when they try preparing the meals. The amazing images will keep them excited to make the recipe.
Since you already have the photos within your reach, you can spend more time expanding your food blog and ensuring your readers get high-quality content.
Ensuring Compliance Without Any Hassle
PLR recipes are not only your secret weapon for affordable and delicious meals. They also allow you to skip the daunting task of understanding and learning copyright laws and ensuring you adhere to them. You'll want to avoid plagiarism and huge penalties that will hurt your brand reputation and cost a lot of money.
With PLR recipes, you don't have to go through such a time-consuming and stressful process. You're confident you're using licensed recipes, so you won't have to deal with copyright problems.
If you have some spare time, you can edit the recipes. You can rephrase the instructions, offer a different intro, or crop images. This way, you can publish unique content that suits your readers' needs and preferences.
How KitchenBloggers Help You Maximize PLR Recipes
Private label rights content offers different benefits to your food blogging business. However, you'll want to know what makes KitchenBloggers different and why you should get PLR recipes from us.
At KitchenBloggers, we want to help you turn your love and passion for food into something profitable. That is why we offer PLR recipes with different themes, such as vegan meals, regional cuisines, and ketogenic options.
We're also committed to providing premium content so you can do the same for your readers. Our talented writers and editors diligently test recipes before including them in our collection. We also ensure they are formatted well, so your readers can easily follow them.
I'm sure that, like me, you don't want to just share content to offer your readers something new. You'll want your recipes to be valuable. That's the reason why we keep our PLR recipes updated and error-free.
We apply the same level of care and precision to the images. We ensure they're catchy enough to urge your readers to create the recipes themselves.
Moreover, we want to spoil our customers and make the most of your purchase. We have bonus recipes and exciting content packages that you can use for your blog, email newsletter, social media channels, cookbooks, and other digital products.
Examples of our PLR recipe freebies include the ketogenic recipes taste test, decadent desserts taste test, and free Instant Pot recipe taste test.
Keto PLR recipes include delicious egg rolls in a bowl, loaded cauliflower au gratin, and one-skillet chicken mozzarella. For decadent desserts, you have a homemade peach cobbler, baked cinnamon apple crisp recipe with eight more in-process photos, and creamy pumpkin mousse.
Further, the free Instant Pot PLR recipe includes sesame garlic chicken wings, garden vegetable soup, and blackberry iced tea. You also get another bonus of buffalo chicken wings and vegan vegetable soup.
This is just a preview of how PLR recipes can give you easy access to affordable, delicious meals that are perfect for your readers.
KitchenBloggers also aims to give you peace of mind while saving time and money. You can expect clear licensing details from the PLR recipe package you'll purchase. You have full authority to use or repurpose the content so you know you won't violate any copyright laws.
Final Thoughts 
Food blogging can be challenging, especially given the constant need to provide fresh, attractive food and health and wellness-related content.
Fortunately, you can continue sharing interesting and top-notch content with PLR recipe. You won't run out of ideas or have to worry about licensing compliance. PLR recipes are your secret weapon for healthy, affordable, tasty meals.
To learn more about our PLR packs, visit our page.