Don't leave your food blog content calendar to chance! Check out our all-new Monthly Content Prompts for fresh content ideas, ready-to-publish food content (with our original food photos!), editable social media and/or recipe card templates, and other blog planning materials.
Summer is almost here, which means lazy days and sultry evenings filled with backyard barbecues, picnics by the lake, and making warm gooey chocolately s'mores over a blazing campfire.
When it comes to recognized food themes… June brings plenty of candy, chocolates, and ice cream-themed days, but there is an Eat All Your Veggies day mid-month to help balance it all out.  
So, let's jump right in and have some fun with these upcoming food themes…
June Food Themes:
If you're looking for a monthly theme for your food-related blog, here are the National Food Months for June, so you can celebrate and/or indulge all month long.
National Candy Month
National Dairy Month
National Fresh Fruit and Vegetables Month
National Iced Tea Month
National Papaya Month
National Steakhouse Month
National Turkey Lover's Month
Here are a few daily food themes for June:
1 – National Hazelnut Cake Day
2 – National Rocky Road Ice Cream Day
3 – National Egg Day
3 – National Donut Day (First Friday)
4 – National Cheese Day
4 – National Frozen Yogurt Day
4 – National Cognac Day
5 – National Gingerbread Day
6 – National Applesauce Cake Day
7 – National Chocolate Ice Cream Day
8 – Jelly-Filled Donut Day
9 – National Strawberry-Rhubarb Pie Day
10 – Herbs & Spices Day
10 – National Iced Tea Day
11 – National German Chocolate Cake Day
12 – National Jerky Day
12 – National Peanut Butter Cookie Day
13 – Kitchen Klutzes of America Day:
14 – National Strawberry Shortcake Day
15 – National Lobster Day
16 – National Fudge Day
17 – Eat All Your Veggies Day
17 – National Apple Strudel Day
18 – National Cherry Tart Day
18 – International Picnic Day
18 – National Sushi Day
19 – National Dry Martini Day
20 – National Vanilla Milkshake Day
21 – National Peaches and Cream Day
22 – National Chocolate Éclair Day
22 – National Onion Rings Day
23 – National Pecan Sandy Day
24 – National Pralines Day
25 – National Catfish Day
25 – National Strawberry Parfait Day
26 – National Chocolate Pudding Day
28 – National Tapioca Day
29 – National Almond Buttercrunch Day
30 – National Ice Cream Soda Day
So there you have it – plenty of inspiration to help plan out your June food content calendar!
Struggling to figure out what to write about – and when? Take a look at our all-new Monthly Content Prompts to see how KitchenBloggers can help you plan your next 90 days of content quickly & easily!

Click here for more details:
https://kitchenbloggers.com/content-prompts
Til Next Time,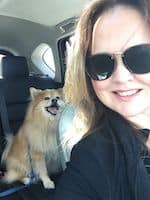 Trish