Help Your Readers Save Time in the Kitchen with This Exclusive "Convenience Cooking Mega PLR Bundle!"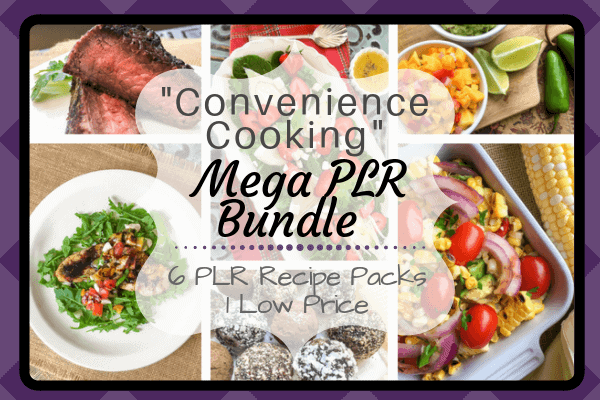 This BIG Bundle Includes These 6 Complete Kitchen-Tested Recipe + Photo Packs:
Instant Pot Recipes – Volume 1
Slow Cooker Recipes
Healthy 30-Minute Meals
5-Ingredient Recipes – Volume 1
Quick & Easy Recipes – Volume 2
Sheet Pan Recipes – Volume 1
Individually, these packages are valued at $174 – but now you can save big with this special "Convenience Cooking Mega PLR Bundle" – 6 Complete Packs!
Get Your Copy Today for Just $89*
***********************************
Don't need the full bundle??
You can also save 30% on any individual package below with coupon code ThankYou

***********************************
Every Recipe + Photo Pack in the Convenience Cooking Mega PLR Pack Includes:
at least 8 brand new kitchen-tested recipes – ALL with original, exclusive photos!
at least original & exclusive food photos to go with each recipe – most include 20-50% more!
These gluten-free recipes can be used on just about any website that focuses on using healthy, whole food ingredients. In addition, these recipes do not include any added processed sugar or any other pre-packaged or processed ingredients. Just fresh, real food recipes your readers will love!
#1 – The "Instant Pot" PLR Package:
Click here for a full list of recipes in the Instant Pot Recipes PLR Pack (opens in new tab)
***********************************
#2 – The "Slow Cooker Recipes" PLR Package:
Click here for a full list of recipes in the Slow Cooker Recipes PLR Pack (opens in new tab)
******************************
#3 – The "Healthy 30-Minute Meals" PLR Package:
Click here for a full list of recipes in the Healthy 30-Minute Meals Recipes PLR Pack

***********************************
#4 – The "5-Ingredient Recipes" PLR Package:
Click here for a full list of recipes in the 5-Ingredient Recipes PLR Pack (opens in new tab)
***********************************
#5 – The "Sheet Pan Recipes" PLR Package:
Click here for a full list of recipes in the Sheet Pan Recipes PLR Pack (opens in new tab)
******************************
#6 – The "Quick & Easy Recipes" PLR Package:
Click here for a full list of recipes in the Quick & Easy Recipes PLR Pack (opens in new tab)
******************************
Get the Complete "Convenience Cooking Mega PLR Bundle – 6 Complete Packs!"
Get Your Copy Today for Just $89