Blogging is considered a must-do activity by many. With so many food blogs out there, it's not always easy to gain loyal readers and blog traffic. The key making your food blog stand out from the crowd and giving your readers a reason to keep coming back for more.
Here are 6 ideas to get you started…
#1: Blog for the Right Reasons
If you blog just because it sounds like fun, it will probably be difficult to gain a large audience. When you blog because you have a unique message and an urge to help your readers, you will help to ensure that your blog stands out. If you discover that you are not blogging for long-term success, you may need to change your focus, mindset, goals, and expectations to incorporate the right reasons to blog.
To help you come up with your story or message, check out our Telling Stories through Food Blogging study guide. You'll learn how to take that story and turn it into something meaningful for your audience.
For example, Colleen blogs with the purpose of sharing her health and food information, related to her Gluten-Free and Dairy-Free diet at her website MyDairyFreeGlutenFreeLife.com.
#2: Craft a Catchy Blog Name
There's a lot to be said about a blog name. It's not what will make or break your success, but a great name sure can go a long way to making readers want to click through and see what you're all about that.
For example, KetchupWithThat.com is a fun name that is memorable and provides the casual atmosphere Mary wants to convey. EatBetterSpendLess.com is a domain that promises a specific benefit that will appeal to Beth's readers.

#3: Build Relationships with Your Readers
Some bloggers ignore their comment section completely. Other bloggers reply to every comment. While you may not have to go that far, these bloggers develop a community of loyal fans. When readers feel as if they have something in common with you, they matter to you, and that you really care, the readers are more apt to become loyal fans.
Geneviève, AKA "Gigi" has a very popular website at GigiEatsCelebrities.com, and she actively engages her followers. Her blog has a unique voice and energy that really captures her visitor's attention.
#4: Customize Your Theme
If you want your food blog to stand out from the crowd, it's easy to customize it to match your branding. Make your blog or website unique and visually appealing. Take advantage of your catchy name, unique selling points, and anything that will help your readers remember you. Keep your customizations relevant to your brand.
Take a look at JeanettesJourney.com. She has a fairly simple design, all focused on sharing information about her journey to a healthy lifestyle. Her story is inspirational and her posts helpful to others on the exact same journey.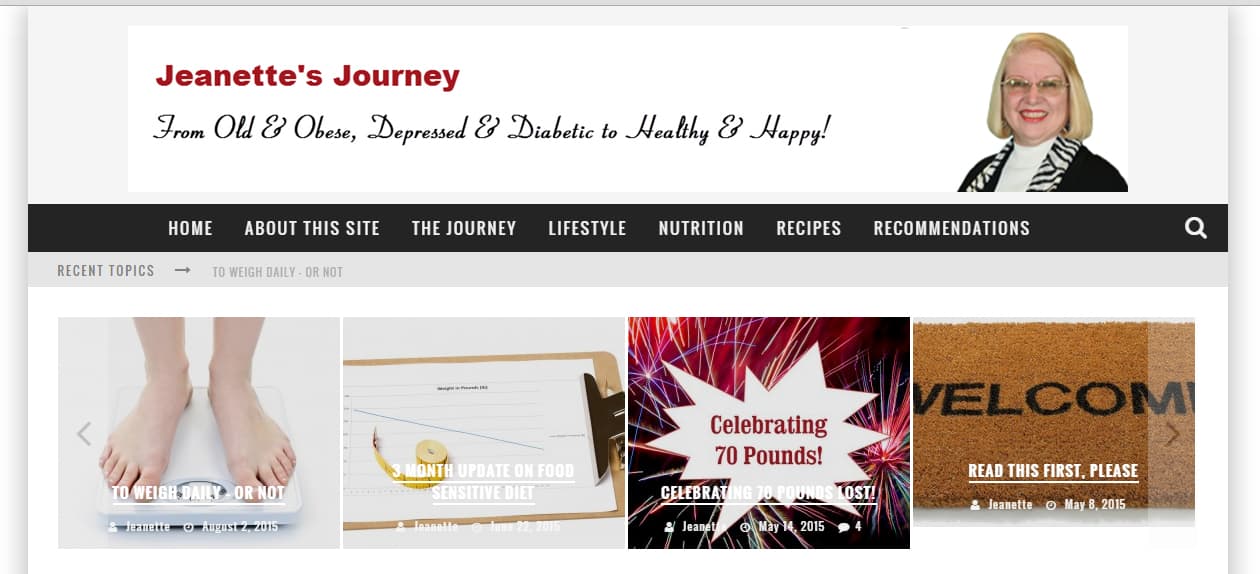 Or if you're interested in something more feminine, Jennifer's HomeInTheFingerLakes.com has a homey feel throughout and is a perfect match with her desire to create a feeling of community with her website.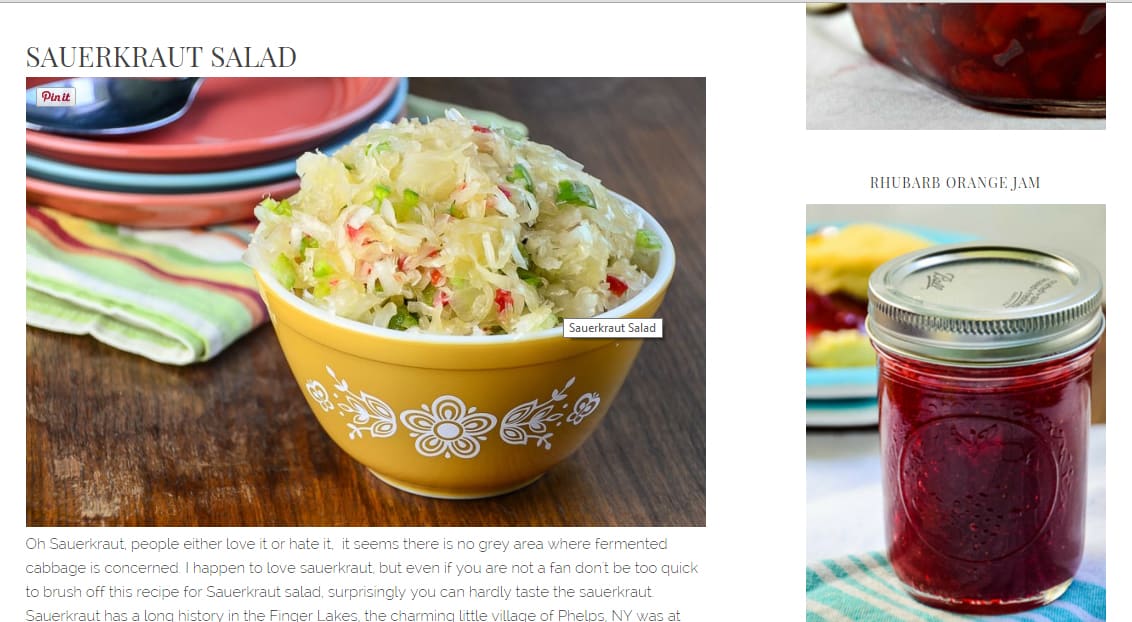 #5: Develop Your Own Style
It's tempting to imitate the blogging style of popular blogs, but don't. You have your own style and your own story to tell. You don't have to be a "safe" blogger either. You can be quirky, or controversial, or as funny and bold as you want. Find a new way to approach your topic and run with it. Sometimes it takes time to develop this, but keep working at it. See what feels right for you and what resonates with your audience.
#6: Make Quality a Top Priority
Write the highest-quality posts that you can. It's better to publish two quality posts that will be read and shared by lots of people than to publish twenty-two poorly written posts that are off-topic or contain fluff and filler. Well-written posts that are packed with details, useful information, and images tend to draw readers like a moth to a flame.
That's not to say short posts can't provide impact. Sometimes it's an amazing photo or a quick update that can also speak volumes to your audience.
A good rule of thumb is to blog consistently and with purpose. If you find yourself running short on ideas, check out our monthly Content Planning & Monetization Ideas guides to help you develop a consistent publishing schedule packed with timely and useful information for your audience.
How can you use these suggestions to give your food blog an edge over the competition? Incorporating them will help you stand out from the crowd and help you build a solid foundation that will help you enjoy long-term success.