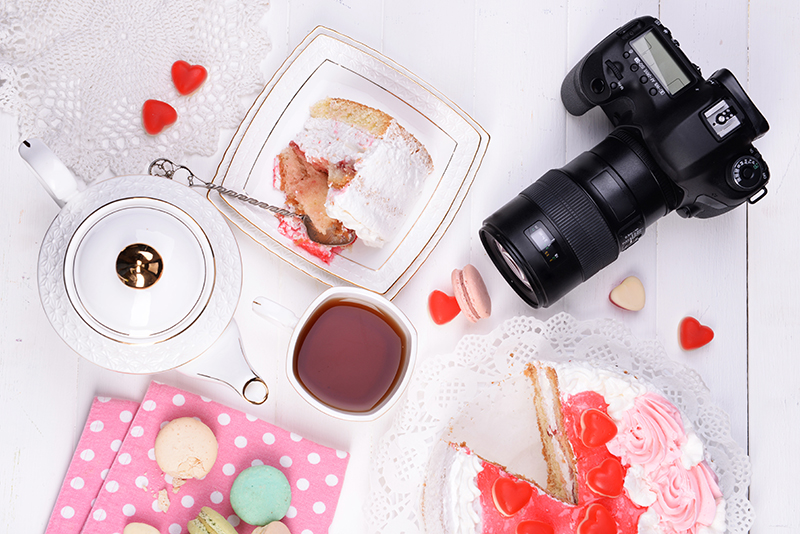 If you're a food blogger, you've probably pondered how you can monetize your website effectively. Well, there are many things you could sell and ads you can put on your site. Many bloggers turn to Amazon as an easy way to find products to promote, but the commissions are so small…it's tough to earn good revenue without a lot of traffic. But it doesn't have to be that way.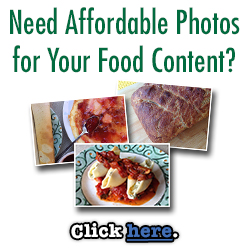 Now before we begin, if you need more help with monetizing your content, we've just added a 53-minute audio tutorial to our Foodaplenty Photo Club bonuses.
The audio bonus covers how to avoid common food blogging mistakes, understanding the purpose of content and coming up with an effective content marketing plan that makes money and grows your list.
Feedback from one of our members:
Alice,
I just listened to the "Content Planning and Monetization" bonus from the Foodaplenty Photo Club, at midnight my time. Wonderful audio, great info (can't wait to listen again – is it something we can download to our phones?), plus, you have a wonderful soothing, and encouraging voice/wisdom. Kudos all around!
Susi Gibson Gilbert
Click here to learn more about the club and you'll be able to download the recording once you're registered.
Now back to the topics…
You Don't Need Big Traffic Numbers
Instead of waiting for your traffic to build, consider alternate ways to monetize your site and do use a combination of ways. And instead of depending on Amazon to build all your affiliate links, search for alternate programs that higher commission.
For example, did you know if you sign up directly for the Vitamix affiliate program, you get 15% per sale and with products at around $350 and much higher, that's a good chunk of change? If you use an Amazon link, you'll earn just 4% or if you sell over 3131 products in a month, you can go up to 8.5%. Clearly, doing a bit of homework before you start promoting can pay off quite well.
TIP: Even though Amazon may not always be the best place to make a link, it is a great research tool. If you want to just start browsing for kitchen products, browse the kitchen section of their website.
There are also a lot of direct sales programs related to food and as long as they allow their representatives to sell online only and don't have any stringent sales requirements, the commissions can be quite attractive as well.
Your Own Products & Services
Or what about your own products and services. If your goal is to blog about food and turn it into a career, selling your own products and services is a must. Okay, it's not a must, but if you don't do it, you're missing out tapping into a lot of revenue. Think about it. Your followers like you. They open your emails and visit your site over and over again because like your stuff. So when you have a product that YOU created, they are going to jump at the change to buy it.
Plus, when you have your own products and services, you keep the profits. That means a whole lot more in your pocket per sale than if you're promoting through an affiliate link.
The Big List
Here's a starter list for you and we'll keep adding to it as ideas come up and we'd love to have you add your own ideas in the comments area. Many of these can be sold through affiliate links, but do consider other options like selling your own products and services. That way, you can take yourself from being a blogger to a full-fledged business owner.
Accepting paid sponsors and sponsored posts
Ad networks like Google Adsense and Chitika
Appliances like blenders, juicers, food processors, refrigerators, stoves, freezers, rice cookers and more
Bakery
Baking classes
Cake or cookie decorating
Calorie and other counters
Catering
Coffee and Tea
Cooking classes
Cookware like roasting pans, baking dishes, pots, pans, woks and more
Coupon books with coupons from local vendors and restaurants
Dehydrated food sales
Deli
Diet programs
Ebooks or printed books
Food cart
Food gifts and gift baskets
Freezer cooking service (teach freezer cooking in the home)
Freezer-safe storage products
Fresh meals in a box service
Gadgets like garlic presses, meat thermometers, food dehydrators, salt and pepper mills, mandolin slicers and more
Gourmet food sales
Grocery list planning
Grocery shopping and errand services
Herbs and spices
Indoor herb garden kits
[Insert Food] of the month clubs
Kitchen cleaning products
Kitchen decor
Kitchen organization service
Kitchen organization service
Kitchen remodels
Knives and food slicers
Lunch and food storage containers
Meal delivery service
Menu planning service
Nutrition counselling
Pantry organization tools
Party decorations
Party planning
Personal chef services
Place settings, tablecloths, placemats, centerpieces and more
Pre-made mixes
Recipe books
Recipe organization tools
Restaurant
Restaurant web design
Seed bank
Sell advertising directly to companies and other bloggers
Vegetable garden set up and maintenance
Vitamins and supplements
Wine and beer making kits or services
Wine, Beer and other alcoholic beverages
That's 54 ideas so far. What ideas do you have? Share them below.
And hey, don't forget to log into your Foodaplenty Photo Club account to get the Food Blog Content Planning and Monetization tutorial. Not a member yet? Join us.