If you are a food blogger, you probably already know that meatless recipes are incredibly popular. What's more, demand for this information is expected to grow as people become more health and environmentally conscious. In addition, skyrocketing food costs are inspiring others to look for creative, yet delicious, ways to lower their monthly food bills.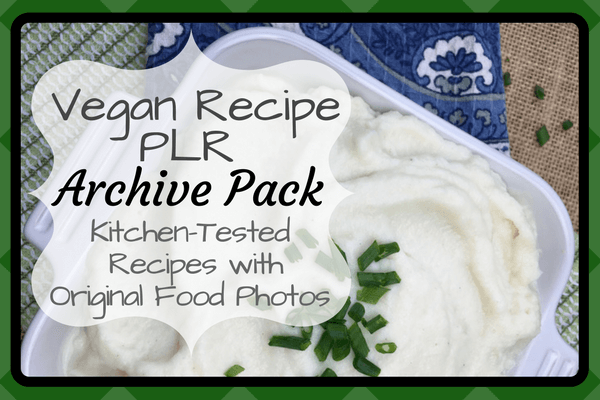 Even if your food blog does NOT focus only on vegetarian or vegan lifestyles, chances are your readers will be interested in ways to incorporate more healthy, non-meat based recipes into their diets. To help meet this need, I've gone through the KitchenBloggers' archives* and pulled together this special collection of vegan recipes and food photos for you.
*Before buying this package, please check your files because these recipes were originally released in other packages, including the Bite-Sized Bundles monthly membership. (However, many recipes have been adapted from the original version to fit the recipe guidelines of this bundle).
Recipe Guidelines:

These vegan recipes contain NO:

Meat, poultry or seafood
Animal products, including eggs, cheese, dairy, or honey
Processed sugar (some recipes contain maple syrup as a sweetener)
Pre-packaged or other processed ingredients
Artificial preservatives
Here's What's Included in the Vegan Recipes Archive PLR Pack:
21 Delicious Vegan Recipes: (All Recipes Include KitchenBloggers' EXCLUSIVE Food Photos!)

Castagnaccio – Traditional Tuscan Chestnut Flour Cake
Chilled Cucumber Avocado Soup with Fresh Dill
"Creamy" Wild Rice & Mushroom Soup
Crispy Seasoned Kale Chips
Garden Fresh Salsa Verde
Mason Jar Salads
Mediterranean Roasted Vegetables
Refreshing Mixed Berry Salad with Raspberry Vinaigrette
Roasted Beet, Citrus, & Fennel Salad
Roasted Yellow Tomato Soup
Savory Butternut Squash "Noodles
Slow Cooker Overnight Apple & Cinnamon Oats
Spicy Peanut Rice Noodles with Broccoli & Peppers
Spicy Sweet Corn Chowder
Tri-Color Roasted Rosemary Potatoes
Tropical Mango Breakfast Smoothie
Tuscan White Beans with Fresh Sage
Garlic and Chive Cauliflower Mash
Pickled Jalapeno & Red Onion
Spicy Sweet Potato Wedges with Herbed Coconut Yogurt Dip
Roasted Tomato & Fennel Soup
89 Gorgeous Large Food Photos (See several examples below)***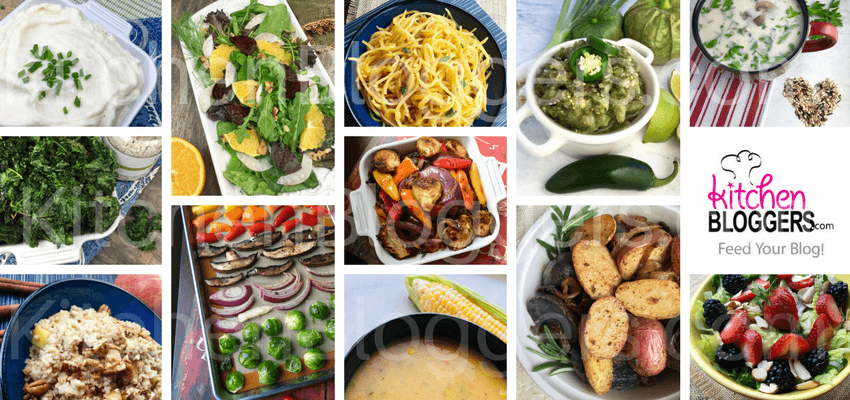 ***The Vegan Recipe PLR Archive Pack  includes more images than the examples shown. This composite image is watermarked, but the actual images you receive are not marked in any way. 
The Vegan Recipe PLR Archive Pack Also Includes These Special Bonuses:

10 Exclusive Bonus Photos:

10 Archive Social Media Graphics:

Tip Sheet: Tips to Use Images on Social Media
1 In-Depth Product Reviews: (Easily monetize by adding your own affiliate links)
Paderno World Cuisine Tri-Blade Vegetable Spiral Slicer (896 words)
Bonus: 10 Royalty-Free Vegan Food Photos

Please note, unlike the original images in all recipe packages on this site, these 10 royalty-free images are NOT exclusive to KitchenBloggers.com. These royalty-free images are "released under Creative Commons CCO, which makes them safe to use without asking for permission or giving credit to the artist – even for commercial purposes." They are offered here as a free bonus, but you can easily source images like these yourself.
Source: Pixabay.com
1 Bonus Recipe: Homemade Vegetable Stock (no images)
There are so many ways you can use this high-quality ready-to-publish food content to grow your audience and make more money. For example, you can:

Add your own affiliate links to the reviews or for specific ingredients within the recipes.
Publish on  your blog, across social media, or in your eNewsletter.
Create your own premium vegan cookbook or a smaller opt-in freebie to build your list.
It's totally up to you – the only thing you CAN'T do with this content is sell it with PLR (or any other resale) rights or put my name on it. 🙂 
Need a Quick Recap? Here you go…
This KitchenBloggers' EXCLUSIVE PLR archive pack includes:
21 vegan recipes
89 large exclusive food photos
1 bonus vegan recipe
10 exclusive bonus vegan-themed images
10 royalty-free bonus vegan-themed images
10 bonus social media graphics
a social media tip sheet
an in-depth product review
It would cost hundreds of dollars or countless hours of your time to create this material yourself. However, you can download your own copy of this Vegan Recipe PLR Archive Pack today for just $49!*
Download Your Copy Today!
**Before buying this package, please check your member area/files!!  The recipes in this archive pack were originally released in other packages (primarily the Bite-Sized Bundles monthly membership). However, many of these recipes have been adapted from the original version to fit the recipe guidelines of this bundle.