Every kitchen needs a good slow cooker. They just can't be beat when it comes to fast meal preparation and easy clean up.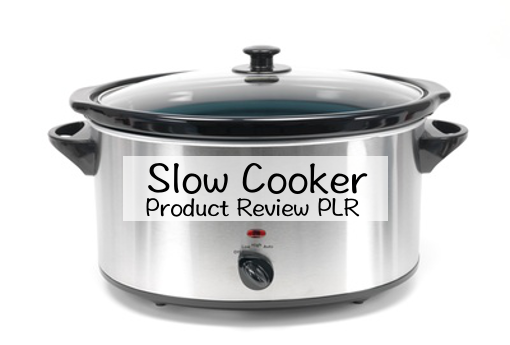 Now, you can help your readers make an informed decision while shopping for this indispensable kitchen tool. This brand new Slow Cooker Product Review PLR Package includes 8 unique pieces of fresh content (each approximately 500 words) – one overview article on how to choose the right slow cooker for your household, plus 7 detailed reviews of best-selling AND highly rated slow cookers.
With high-quality product reviews, you can earn your money back quickly. Simply add your own affiliate links – then bundle them together into a special report, add them to your autoresponder, post them on your blog… or whatever you choose!
Here's a Closer Look at What's Included:
In-Depth Article on the Slow Cooker Product Category
How to Choose the Perfect Slow Cooker for Your Household
document with links to reviewed products, plus potential "add-on" purchases
7 Detailed Slow Cooker Reviews:
4-Quart 360 Cookware ID004-GC Gourmet Slow Cooker
Hamilton Beach Stay or Go 6-Quart Slow Cooker Review
The Crock-Pot SCCPVL610-S Programmable Cook and Carry Oval Slow Cooker
The Emeril SD500050 6 Quart Dishwasher Safe Ceramic Bowl Slow Cooker with Automatic Temperature Control Technology
The Cuisinart 3-In-1 Cook Central Multi-Cooker, Slow Cooker, Steamer
Calphalon 7-Quart Digital Slow Cooker
The Stainless Steel Crock-Pot SCVT650-PS 6 1/2 Quart Programmable Touchscreen Slow Cooker
Compelling, No-Hype Reviews
Your readers can spot "hype" a million miles away – and will definitely appreciate the amount of research and honesty that went into creating each review. 
Every product in this package is rated a "best seller" on Amazon.com AND has earned a 4.0 or higher customer rating. While every review focuses on the primary strengths of each model, potential drawbacks – and suitable alternatives – are noted, as well.
Plus, the slow cookers reviewed for this package offer a nice balance between entry-level, moderately priced, and high-end models, so there is something for every budget.
Grab Your Copy Today for Just $10
This exclusive package of Slow Cooker Product Reviews was originally offered on our sister site, KitchenPLR.com. Please check your records to avoid duplicate purchases. If you see it sold elsewhere, it is in violation of our sales agreement.