Don't Miss the KitchenBloggers' PLRaPaLooZa 2018 PLR Food & Gardening Sampler Pack!

When You Purchase Your PLRaPaLooZa 2018 Pass – You'll Get Access to over $1,100 worth of premium PLR products from 23 top PLR providers, including KitchenBloggers!
Disclosure: Affiliate link above
The KitchenBloggers' Contribution to PLRaPaLooZa 2018 Includes Three (3) Great Food & Gardening PLR Packs:
PLR Pack #1: Seasonal Slow Cooker Recipes with Original Food Photos: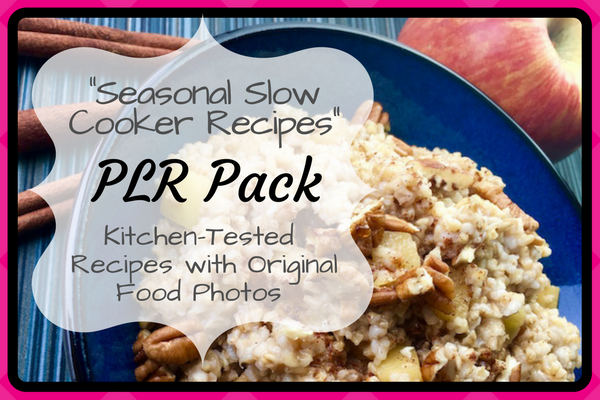 This "Seasonal Slow Cooker" PLR package features fast and easy sugar and gluten-free recipes that can be used on any website that focuses on using healthy, whole food ingredients.
In addition, these recipes do not include any type of processed or pre-packaged ingredients. Just fresh, real food your readers will love!
The Seasonal Slow Cooker Recipes PLR Package includes:
8 kitchen-tested recipes – ALL with original photos – that's 2 new blog posts with photos per week for a month!
More than 20 original food photos*
"Top 10 Tips Sheet" – Relevant cooking tips and kitchen hacks related to the recipes in this package. (Perfect for sharing via your eNewsletter or on social media)
The gluten-free recipes included in this package can be used on just about any website that focuses on using healthy, whole food ingredients. In addition, these recipes do not include any added sugar or any other pre-packaged or processed ingredients. Just fresh, real food recipes your readers will love!
Here are the Seasonal Slow Cooker Recipes featured in this package:
Spicy Jalapeno Buffalo Chicken Dip
Mulled Apple Cider with a Twist
Overnight Apple Cinnamon Steel Cut Oats
Slow Cooker Beef Broccoli
Creamy Wild Rice & Mushroom Soup
Tuscan Sausage & Potato Soup
Savory Pineapple Pork Roast
Easy Shredded Mexican Chicken
Here's a look at some of the 30+ original photos in the brand new "Slow Cooker Recipes" package: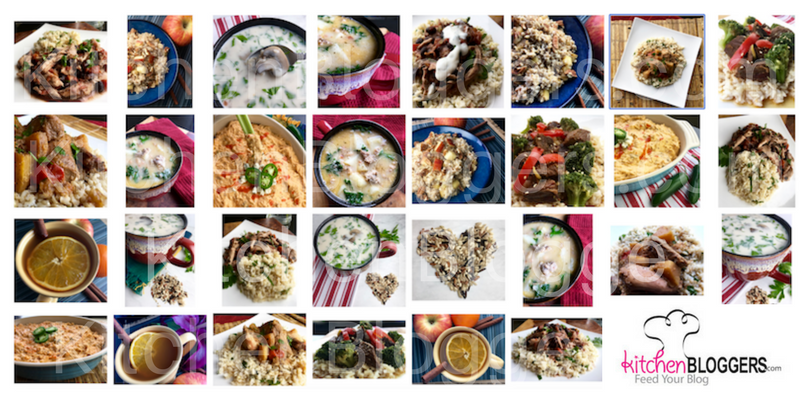 *All recipes come with at least 2 to 3 large food photos that are exclusive to KitchenBloggers. (I personally take each photo so you don't have to worry about their source).
Plus These Special Bonuses for the Brand New "Slow Cooker Recipes" Pack:

2 additional bonus recipes (with additional food photos!)
— Brand New: Cilantro-Lime Rice
— Slow Cooker Beef Chili
Easy Monetization ideas for this package
PLR Pack #2:

Slow Cooker Product Review PLR Pack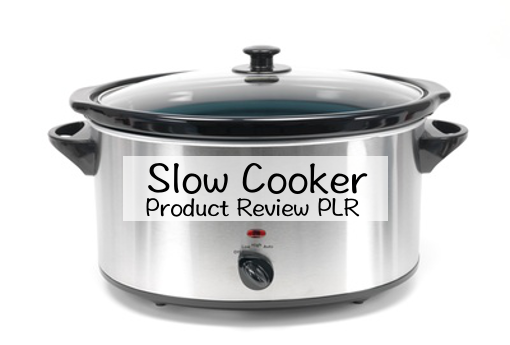 Now, you can help your readers make an informed decision while shopping for this indispensable kitchen tool. This brand new Slow Cooker Product Review PLR Package includes 8 detailed articles and product reviews (each approximately 500 words). Includes one overview article on how to choose the right slow cooker for your household, plus 7 reviews of best-selling and highly rated slow cookers.
With high-quality product reviews, you can earn your money back quickly. Simply add your own affiliate links – then bundle them together into a special report, add them to your autoresponder, post them on your blog… or whatever you choose!
Here's a Closer Look at What's Included:
In-Depth Article on the Slow Cooker Product Category
How to Choose the Perfect Slow Cooker for Your Household
document with links to reviewed products, plus potential "add-on" purchases
7 Detailed Slow Cooker Reviews:
4-Quart 360 Cookware ID004-GC Gourmet Slow Cooker
Hamilton Beach Stay or Go 6-Quart Slow Cooker Review
The Crock-Pot SCCPVL610-S Programmable Cook and Carry Oval Slow Cooker
The Emeril SD500050 6 Quart Dishwasher Safe Ceramic Bowl Slow Cooker with Automatic Temperature Control Technology
The Cuisinart 3-In-1 Cook Central Multi-Cooker, Slow Cooker, Steamer
Calphalon 7-Quart Digital Slow Cooker
The Stainless Steel Crock-Pot SCVT650-PS 6 1/2 Quart Programmable Touchscreen Slow Cooker
Compelling, No-Hype Reviews
Your readers can spot "hype" a million miles away – and will definitely appreciate the amount of research and honesty that went into creating each review.
Every product in this package is rated a "best seller" on Amazon.com AND has earned a 4.0 or higher customer rating. While every review focuses on the primary strengths of each model, potential drawbacks – and suitable alternatives – are noted, as well.
Plus, the slow cookers reviewed for this package offer a nice balance between entry-level, moderately priced, and high-end models, so there is something for every budget.
PLR Pack #3: Vegetable Garden Planning PLR (4,656 Words)
If you love to cook, growing your own vegetable garden is one of the most rewarding things you can do. This pack of gardening PLR articles was created to help you educate your readers how to get started.

The "Vegetable Garden Planning" PLR Pack Includes:
1. How to Plant a Vegetable Garden in Four Easy Steps (910 words)
2. 3 Must-Know Vegetable Gardening Tips (574 words)
3. How to Build Raised Vegetable Garden Beds (616 words)
4. Heirlooms vs. Hybrid Plants: What's the Difference? (742 words)
5. What is a Kitchen Garden? (608 words)
6. Planning a Productive and Practical Potager (639 words)
7. Deciding When to Plant Vegetables in Your Area (567 words)
Each in-depth article in this series has been thoroughly researched for accuracy. Use these articles to give your readers the kind of detailed vegetable gardening advice they are looking for!
There are lots of ways you can use these articles: Add to your blog, your eNewsletter or compile into a free or paid info-product are just a few ideas to get you started.
********************
Think of all the time and money you'd spend if you were to create this content yourself … Brainstorming new ideas, making multiple trips to the grocery store, paying for ingredients, developing and testing each recipe, taking quality food photos, and coming up with ideas to share via email and social media.
Fortunately, we've done all the "heavy lifting" for you with our PLRaPaLooZa 2018 PLR Sample Pack– for a fraction of what you'd spend doing it yourself!
Download Your Copy Today for Just $37!
This PLR (private label rights) content is
exclusive

to KitchenBloggers. You may edit and publish this content under your own name. For example, you may use this material for blog posts, enewsletter content, cookbooks, free opt-in reports, or other products to give away or sell to your customers for their personal use.
However, you may NOT sell, give away, or otherwise distribute the PLR or any other resale license to this material. This content may NOT be sold or given away on another PLR or Master Resale Right (MRR) site.