JR Lang is one of my favorite PLR providers and she just released a brand new mega PLR pack called "Complete & Total Wellbeing: Your To-Dos for the New Year."
I absolutely love this topic because there are so many ways to you can tie it in to what we do in the kitchen with the delicious and healthy homemade food we make and share with our readers.
Here's the thing – your readers are often looking to:
Save time
Save money
Get healthier (lose weight, control medical conditions, etc…)
… and this pack offers a TON of information you can use to help your readers with these challenges.

You can grab your copy (along with my all-new bonuses – keep reading for more details and sample images) here:
jr-wellbeing  (aff. link – opens in new tab)
But before you go, I'd like to tell you about the great bonuses I put together for you if you pick it up via my link (above).
First of all, JR's funnel consists of four (4) parts, so I am offering something for each level if you decide you can use it all. Here's what you'll get:
Front End Bonus: 3 Brand New Recipes with Exclusive Photos, (+ One Newly Updated Recipe)
These Recipes Include:
Creamy Pumpkin Mousse with Maple Whipped Cream – 4 large images
Moroccan-Inspired Chickpea Soup – 3 large images
Sweet Potato & Avocado Buddha Bowls with Sriracha Hummus – 4 large images
I have not released or published these recipes elsewhere. I have also updated an already released recipe (with 2 newly edited photos) and added it to this bonus, as well.
Here are the images you'll receive:

In addition, you'll also get a printable grocery shopping list you can give away to your readers (in both PDF and editable Excel format), 5 social media graphics (ideal for Instagram), and 5 blank photos (all taken by me so you don't need to worry about the source) you can use to create your own IG graphics.
Here are the Social Media Images: 

OTO #1: 8 Brand New Printable Recipe Cards, featuring these delicious & healthy recipes:
Creamy Pumpkin Mousse with Maple Whipped Cream
Moroccan-Inspired Chickpea Soup
Sweet Potato & Avocado Buddha Bowls with Sriracha Hummus
Grilled Bone-In Pork Chops
Crispy Seasoned Kale Chips
Roasted Garlic Hummus
Roasted Pear & Blue Cheese Salad
Garlic-Herb Roasted Chicken
These gorgeous recipe cards are brand spanking new!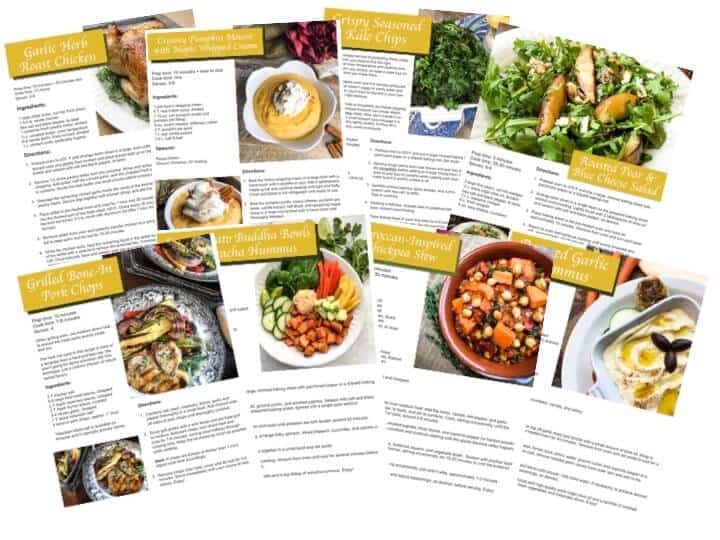 You can use these recipe cards as a content upgrade if you publish the recipes on your site (offer the printable recipe card if they sign up for your list) or bundle them all together with other healthy, real food recipes as part of a larger opt-in incentive.
Each recipe card folder includes an easy-to-edit PowerPoint file so you can add your own blog colors, your logo, and/or other branding elements to them. You also get a ready-to-download PDF of each card, plus a .jpg file you can add your logo to in Canva or other image editing tool.
OTO #2 Bonus: Your choice of any of my existing done-for-you menu plans (or your choice of any other pack or product on the site up to $29 value) – You can find instructions to claim your bonus on the download page in JVZoo after your purchase.
OTO #3 Bonus: 30-minute Skype strategy session to discuss your business goals and/or challenges.
All bonuses  have already been added to JVZoo. If you purchase any or all levels via my link, you will automatically have access to these bonuses on the download page for your purchase.
Whew! Ready to get started??
If so, you can pick up JR's "Compete & Total Wellness: Your To-Dos for the New Year" here:
jr-wellbeing  (aff. link = opens in new tab)
PS Here's a look at everything you get this "Complete & Total Wellbeing: Your To-Dos For the New Year" PLR pack: 
Report: 100 Things To Do To Promote Your Personal Growth
– Editable Word And Fully Formatted PDF
– Editable eCovers with 6 Different 2D and 3D designs
– Custom Squeeze Page
Report: 100 Things To Do To Promote Wellness Of The Spirit
– Editable Word And Fully Formatted PDF
– Editable eCovers with 6 Different 2D and 3D designs
– Custom Squeeze Page
Report: 100 Things To Do To Promote Your Physical Wellness

– Editable Word And Fully Formatted PDF
– Editable eCovers with 6 Different 2D and 3D designs
– Custom Squeeze Page
Report: 100 Things To Do To Promote Your Mental Wellness

– Editable Word And Fully Formatted PDF
– Editable eCovers with 6 Different 2D and 3D designs
– Custom Squeeze Page
Report: 100 Things To Do To Promote Your Emotional Wellness

– Editable Word And Fully Formatted PDF
– Editable eCovers with 6 Different 2D and 3D designs
– Custom Squeeze Page
Report: 100 Things To Do To Improve Your Diet

– Editable Word And Fully Formatted PDF
– Editable eCovers with 6 Different 2D and 3D designs
– Custom Squeeze Page
7 Day Email Series: Complete and Total Wellbeing In 2019

– Diet and Nutrition – 437 Words
– Emotional Wellness – 416 Words
– Mental Wellness – 459 Words
– Personal Growth and Wellness of Self – 396 Words
– Physical Wellness – 445 Words
– Social Wellness – 407 Words
– Wellness Of The Spirit – 392 Words
40 Tweets/Social Media Updates
20 New Articles

Top 10 Health Apps For 2019 – 1,110 Words
Top 10 Physical Wellness Tips – 817 Words
5 Ways Tech Can Help You Lose Weight – 600 Words
5 Ways To Boost Your Mental Wellness – 628 Words
6 Best Mental Health Apps For 2019 – 808 Words
Avoiding Modern Day Pitfalls Of Wellbeing – 643 Words
Evaluating Self Care Deficits In Your Life – 639 Words
Five Modern Tools That Promote Success – 606 Words
Navigating Peace Of Mind In The Incredibly Hectic Modern Age – 610 Words
Organize Your Life With These Four Great Apps – 612 Words
Top 10 Anti Aging Mindset Tips – 712 Words
Top 10 Emotional Wellness Tips – 673 Words
Top 10 Environmental Wellness Tips – 639 Words
Top 10 Financial Wellness Tips – 768 Words
Top 10 Mental Wellness Tips – 762 Words
Top 10 Social Wellness Tips – 712 Words
Top 10 Tips For Occupational Wellness – 720 Words
Top 10 Wellness Of The Spirit Tips – 665 Words
Your Most Important New Year Resolutions –  608 Words
5 Editable Infographics
– Top 10 Social Wellness Tips
– Top 10 Mental Wellness Tips
– Top 10 Emotional Wellness Tips
– Top 10 Wellness Of The Spirit Tips
– Top 10 Personal Growth Tips
Easily Editable Powerpoint, PDF and High Def PNG
2 Editable HD Videos Each Video Comes With
– Editable Powerpoint Source Files
– Professional Voiceover and Script
– DVD Cover Graphics
– Royalty Free Music