Candy corn…
Did you know 25 million pounds of it are sold each year? It's a popular candy in Autumn and at Halloween, for sure. Whether you like to eat it straight out of the bag or use it in your favorite recipe, there are so many things you can do with these colorful candies. Take a look at Pinterest and you'll see people are pinning and repinning these creative ideas like crazy.
That's why we've put together a bunch of content that you can publish on your website, sell, share on social media and more. You can edit, brand and monetize this content as much as you'd like. It's all up to you when you purchase your private label rights below.
Here is what's included in this ready-made content pack…

Candy Corn Fun: 17 Creative Ideas for
Autumn's Favorite Candy Report
This "Candy Corn Fun: 17 Creative Ideas for Autumn's Favorite Candy Report" book includes 17 fun ideas for treats and decor, 1439 words and 17 images (one for each idea) to help your readers get creative this fall. The ideas included are:
Flower Cupcakes
Chocolate Pretzel Bites
Monster Popcorn Mix
Snack Mix
Candle Holders
Cake Decorating
Popcorn Balls
Candy Corn Vodka
Candy Corn Wreath
Chocolate Bark
Creepy Popcorn Hands
Candy Corn Covered Pumpkin
Candy Corn Pizza
Handprint Turkey Art
Turkey Cookies for Kids
Monster Cupcake
More Candy Corn Turkey Cookies
Here's what's inside…



Recipe Book Ecover Set with Editable File

2 Versions of the 17 Idea Photos
Each candy corn idea comes with a detailed photo. We've included the plain version of each photo and a version with a text description of the creative idea. Use the photos on your blog, on social media or wherever you post images. Be sure to add your URL or logo before posting.
Here's a sneak peek at the plain photos: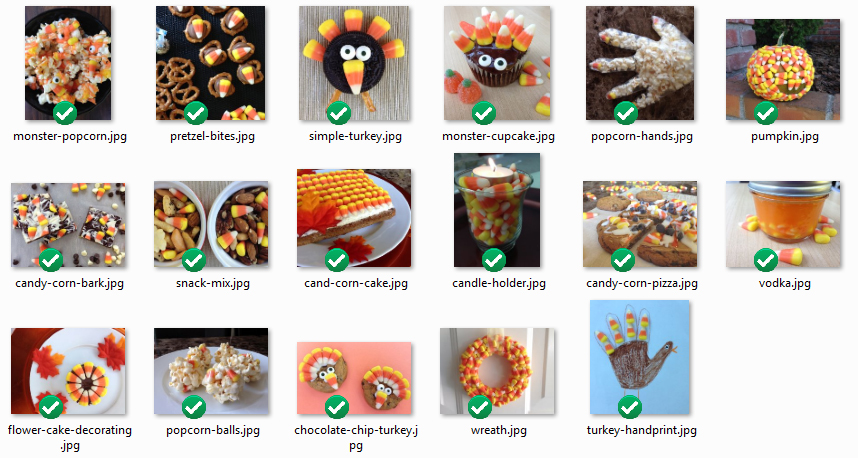 And the ones with text, perfect for social media and more. 

To Recap, Your Package Includes:
"Candy Corn Fun: 17 Creative Ideas for Autumn's Favorite Candy Report" (17 ideas, 1439 words and 17 images)
Complete recipe book ecover set with editable PSD file
.JPG version of the 17 photo ideas
The same 17 photos with descriptive text
You can get it all this great content for just $17! With our ready-to-publish food content, you'll save  a ton of time and money compared to researching ideas, buying the materials, making the projects, taking photos, writing the content, and editing graphics.
Download Your Copy Today!